Some Lighter Elements
Since my last three posts have been serious, I have been thinking that it is about time that I lightened things up a bit. I went to the Indianapolis Zoo a few weeks ago and I would like to share some of my pictures. Maybe it was just the early Spring weather, but all the animals seemed really lazy or very bored. Of course, it may just be that Zoo life is so exciting for them that they all decided to take a break and just chill out. They probably all had little stampedes in their enclosures earlier in the day, before I got there! Well, anyway, here are some pictures and my impression of what these animals had on their minds. Enjoy. :)



Now, were is that handler with my hay bale!?



Hmmm, should I drink or should I poop?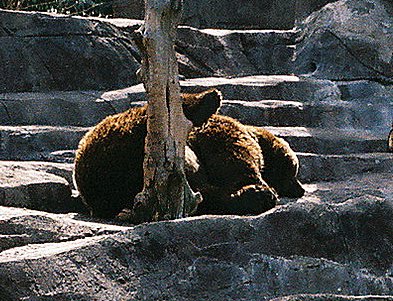 Ahhh, a comfy rock bed and a dead tree to put my paw up on, that's the life!

After walking around the Zoo, I visited the Botanical Gardens that are right next to the Zoo. They have a tropical butterfly exhibit every year that begins in the Spring and runs through early Fall. The Gardens obtain various colorful and attractive butterflies, which arrive in the dormant chrysalid state (the metamorphic period during which a catapillar transforms into a butterfly). These are placed in several transparent enclosures within a large greenhouse. When the butterflies hatch, the Garden's staff open the enclosures to allow the butterflies to fly about the greenhouse for the enjoyment of the guests. I came rather early to the butterfly exhibition, so most of the really big and beautiful ones hadn't hatched out yet. However, the small ones can be quite pretty, too. One of these, for some reason, found me to be an agreeable perch. Trying to adjust and focus my camera with only one hand was a bit challenging, but happily it turned out well. :)



I wish this fool would hurry up and take my picture, I want to get back to my bowl of sliced fruit!