Do You Ebay?
First, I would like to apologize to my guests for my rather lengthy absence. As many of you know, I have not disappeared altogether. I have managed to drop in here and there to say hello and sometimes a bit more. :) I would like to explain where I have been spending much of my free time of late. You see, I have acquired a new hobby of sorts. Actually, it has become somewhat of an addictive habit! I have discovered the world of Ebay auctions and I have been rather busy attempting to buy various items of interest and utility.

This all started about two months ago. Some of you will recall the post that I devoted to the passing of famed science fiction author Andre Norton. Well, I was exploring her official web site one day and I discovered that Andre and her caregiver Sue Stewart had started a small business of making and selling bead necklace jewelry. Apparently, in the last year of Andre's life, she wasn't able to write any more and she was rather depressed about that. Sue, who is an accomplished craftsperson, suggested that Andre might like to try doing some craft work as an outlet for her creativity. Andre agreed and got very involved in the project. She enjoyed shopping for interesting beads, as well as designing and making the necklaces. After reading about Andre and Sue's Ebay store, I was intrigued and decided to check it out. I thought that it would really be neat if I could buy something that had been hand made by one of my favorite authors. (Just to be clear, I had no intention of actually wearing one of the necklaces! :) ) Unfortunately, by the time I arrived at the Ebay store, all of the necklaces that had been personally handmade by Andre had already been sold. However, I noticed that there were a few small items of Andre's personal jewelry available for sale. One of these items, the cat pin pictured below, caught my eye. I really liked it! I knew that cats were very special to Andre and that they figured prominently in some of her books. Somehow, it seemed to me that the cat in this pin had a certain character, perhaps an air of superior intelligence and an attitude to match! I wondered if Andre had selected this pin because she saw something similar when she looked at it.



From Sue Stewart's description: "This item is from Andre's personal collection of jewelry, it belonged to her and was worn by her. The cat pin is made of copper. The eyes and nose are opals and the stones adorning the body are marcasite. It is about 3/4 inches wide and 2 inches tall. Andre was a lover of all animals, especially cats."

So, I had decided to bid on the cat pin, but first I needed to set up an Ebay account as well as a means to fund my purchases. I did a little reading on how to set up an account and then proceeded to do so. It was really quite easy, as Ebay is really user friendly! To fund my purchases, I decided to use Ebay's PayPal service and I signed up for an account. Basically, I gave them my credit card number on a secure web page and chose a user name and password for my account. When I make a purchase, PayPal does an electronic transfer to the seller and charges my credit card. The seller never sees my credit card number. Also, there is no charge for this service to the buyer. However, the seller pays a small fee to PayPal for the transaction.

Well, back to my story. I ended up placing several bids for the cat pin. It was between me and another bidder who seemed to really want the item. In fact, he or she had previously bought a number of the necklaces made by Andre and some of her personal jewelry. This person was either a serious fan collector or some sort of Sci-Fi business owner. Well, I decided to stop fooling around and plotted a strategy. I knew that the auction would end at a specified time. So, I decided to enter my maximum bid a few seconds before the end of the auction and hope that it was more than Mr. or Ms. Collector Pants was willing to pay. A few minutes before the end of the auction, I started a stop watch to time my final bid. One minute before the end, I entered the bid. The next step was to confirm the bid. I waited until there was 20 seconds left and then pressed confirm. It takes about five seconds for this to go through. I waited tensely and then got a screen saying I was the high bidder and that there were about ten seconds left until the end of the auction (I know, my timing was a bit off :) ). I waited, nervously expecting the other bidder to jump in with a higher bid. After ten seconds, I checked and found to my delight that I had won the auction! I used Ebay's simple checkout procedure which took me to my PayPal account and I paid for the item along with the seller's shipping charge. I exchanged a couple of friendly emails with Sue Stewart regarding the item and, about a week later, it arrived in the mail. I keep the pin next to my computer and look at it occasionally while wondering if this pin might have inspired any of Andre Norton's stories...

In the past two months, I have bought a number of old structural engineering books, which are of great interest to me considering my engineering education and work experiences. Below is a picture of one of the books. This book, published by the Bethlehem Steel Company in 1934, lists all of the various structural steel sections, like I-Beams for example, that the company manufactured at that time, along with various information intended to aid an engineer in the design of a steel structure. Today, this sort of book is very useful to engineers who work to rehabilitate old buildings. I have done some of that sort of work in the past and found those projects to be some of the most interesting things that I did as an engineer.


This next picture is of a very large and heavy old bench vice that I bought. I have no idea how old it is, but it I suspect that it could easily date to when my grandparents were young! I constructed my own work bench a few years ago and I had been thinking for some time that every good work bench needs a good vice. Well, this vice is one of the largest and heaviest that I have ever seen and, despite its age, it is still in very good working condition. It really is true that there was a time when things were just made right! Actually, I did a bit of research on the internet and found a few newly manufactured vises that are just as big as this old one. However, they cost about four times what I paid and probably wont last half as long! So, I am quite satisfied with the deal that I found.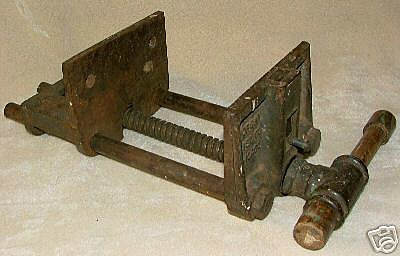 So far, I have been quite pleased with my Ebay experiences. It is easy to tell if the sellers are reputable. Ebay provides a system whereby buyers and sellers can leave feedback on any given transaction. All this feedback is accessible to any Ebay user, buyer or seller. Thus, a buyer can see what previous buyers thought of a particular seller, and a seller can see what previous sellers thought about a particular buyer. It is really an excellent way to do business and I can certainly highly recommend it! It is very interesting to see that Ebay has grown into a worldwide business. I have seen items offered for sale in Canada, England, France, Germany, and Australia. I am sure that a number of other countries are involved, as well. Many sellers say that they will ship their items anywhere in the world. I have no doubt that Ebay is going to continue to grow into a true worldwide market place. I think that I may have to invest in Ebay, and the sooner the better! :)