The Nesting Instinct and Something for a Friend
A few months ago, not long after my experience with the duckling, I discovered that a nest was being constructed on top of a wreath hanging on a wall near where I live. I watched as the nest grew in size over a period of several days, but I had still not caught sight of its builder. Finally, I spotted the avian culprit lying low and trying to be as inconspicuous as possible behind the green fabric leaves and white flowers of the wreath. It was a dove!

I watched her for a few days, approaching a little closer each day. She did not seem particularly concerned about my presence. However, she sat absolutely still as I observed her. I tried not to make any sudden movements and I only watched her for a few seconds at a time before I slowly turned and walked away. After about a week, I decided to try and take a picture of her. I brought out a little step ladder so I could get to approximately the same height as the nest, carefully set it up, climbed two steps slowly, aimed the camera and pressed the shutter release. The flash went off and I froze expecting the dove to startle and fly away. However, she just sat immobilized on the nest as if nothing had happened. Here she is (please click on the picture for an enlargement):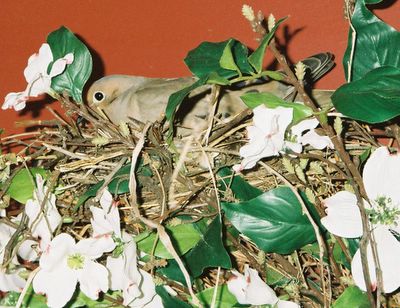 Emboldened by the Dove's tolerance of my presence and picture taking, I decided to attempt another shot from a different angle. Again, to my great satisfaction, the dove was completely cooperative.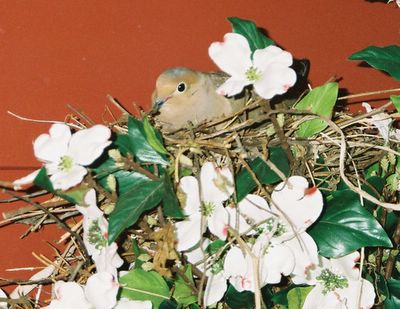 Over the course of the next two weeks or so, every time I looked at the nest, the dove was there. I don't know if she ever left. I assumed that she was sitting on some eggs, but I wondered if she was getting hungry. I thought that her mate might be feeding her as she sat, but I never saw him. Nevertheless, she persevered and I continued to watch her every day. At long last, my patience (and hers too!) was rewarded when I noticed a tiny head poking out from beneath her. I continued to carefully watch for a few more days, not wanting to startle the dove from her nest and baby. Then, I decided to try and get a picture of the mother and chick. Once again, I was very pleased that she tolerated my efforts.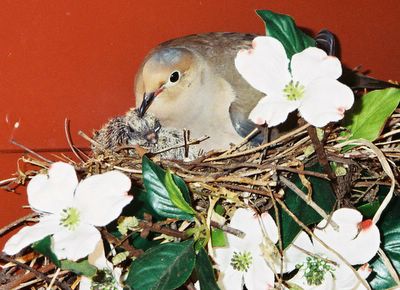 The next day, I saw another tiny head peaking out from beneath the mother dove. The two chicks grew fast. It seemed that nearly every day they were bigger and their feathers more fully developed. In about three weeks, they grew from tiny helpless chicks into juvenile doves about half the size of the mother. I didn't want to disturb them and so I didn't take any more pictures during this period. One day, I found that the mother was gone. I figured that she was off to get something to eat. I decided to try and take a picture of the two half grown doves in the nest. I got out my step ladder and carefully climbed into position and raised my camera. Just before I was about to press the shutter, one of the little doves jumped and flew from the nest to a nearby bush. I was quite surprised! I climbed down and approached the dove in the bush. This time, it didn't even let me get close. It flew again to a nearby tree. Then, I began to worry a bit that it was too far from the nest and the mother wouldn't be able to find it to continue feeding it. I decided to give up on taking any further pictures. I carefully removed my step ladder and withdrew from the remaining young dove in the nest. The next day, I was glad to see the mother back on the nest with the one baby. The day after that, they were both gone. I continued to hear doves cooing for the next few days, so I assumed that one or both of the young doves were still hanging around and were possibly still being fed by their mother. This was a very interesting experience and I was glad to have been able to observe the mother dove and her babies.
For My Friend:
Earlier this week, my friend Pantea asked me to help her get the word out about a petition that seeks to stop the flooding of the reservoir behind a dam which is nearing completion in southern Iran. This dam will submerge parts of the famous and historical site of Pasargadae (this link has some very nice pictures, so please take a look) which was founded by Cyrus the Great around the year 547 BCE (approximately 2500 years ago). I have done a bit of net surfing to learn more about this dam project. It is called the Sivand Dam and it is being built on the Polvar River near the site of Pasargadae. The Iranian government has delayed by one year the original schedule to fill the reservoir to allow an international team of archeologists to excavate the area to be flooded. In the past six months, these archeologists have made a number of very interesting discoveries, but with so little time remaining, and so much work left to do, the team has recently said that they will need four years to thoroughly dig the site. I sincerely hope that they will be granted more time! The petition may not be able to stop the dam's flooding, but if enough people sign it, it may at least allow a further delay in the flooding. So, in the interest of preserving as much as possible of the as yet undiscovered historical treasures of Pasargadae would you please add your name to this petition? Thank you!